This is a guide to Roaming Client deployments in the dashboard. For an instructional walkthrough of deploying DNSFilter on your devices, see our guides on deploying on Windows, macOS, Linux, iOS, Android, and Chromebook.
The management of Roaming Clients can be done through the dashboard's Deployments > Roaming Clients section. There are two panels here, one for the management of clients, and one for the installation of clients.
Roaming Client Management Panel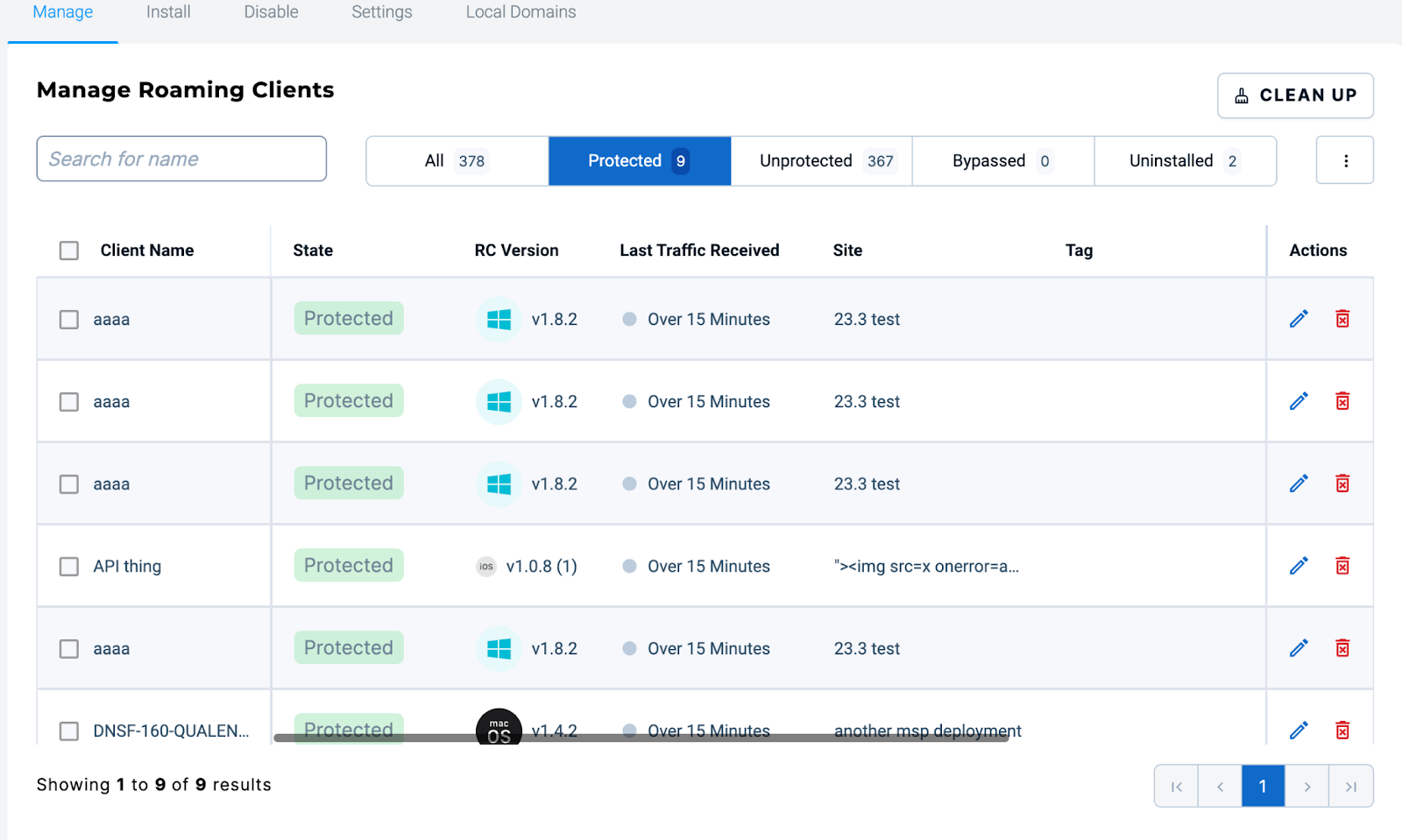 The management panel allows you to make edits to one or more clients. The following options are available:
Friendly Name - This is an optional name that you can assign to the client. Otherwise, it is the computer hostname when the client was installed.
Policy/Schedule - This is the assigned Policy or Filtering Schedule for the client.
Block Page - This is the Block Page that the client will display or redirect to.
Last Traffic Received - This value allows quick access to currently connected clients.
Tags - This allows you to group clients by one or more categories, similar to Gmail's tag feature.
Site - This is the site the Roaming Client is assigned to for billing and organizational purposes. Query usage from the client will be counted along with the network the client is assigned to.
Edit - Edit sidebar menu gives access to modify single or multiple Roaming Clients.
Clean Up Tool
The Clean Up option supports one-step deletion of old roaming clients based on the last traffic sent. You can select a time interval to only clean the oldest RCs. Once they've been identified, you can confirm the count and list of clients that will be deleted.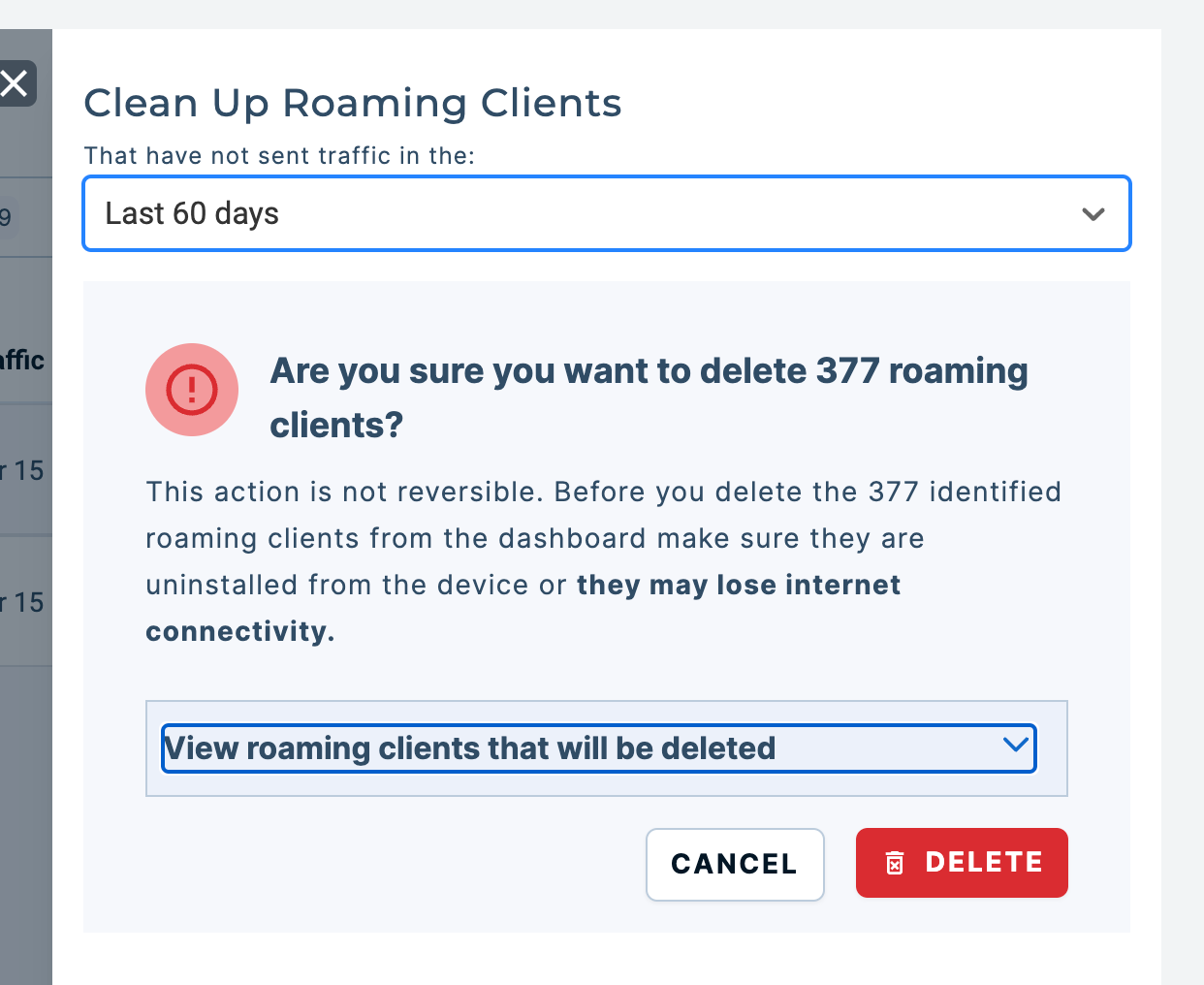 Export Roaming Clients to CSV
New option to export all roaming clients and their metadata to a CSV file for reconciliation or billing needs.
For individual sites, you'll find the option under the kebab menu on the Manage tab.

Export for MSPs
MSPs will find an aggregate export option under the Roaming Clients menu from MSP -> Settings. This will generate a CSV of all roaming client records across your sub-organizations.

Roaming Client Installation Panel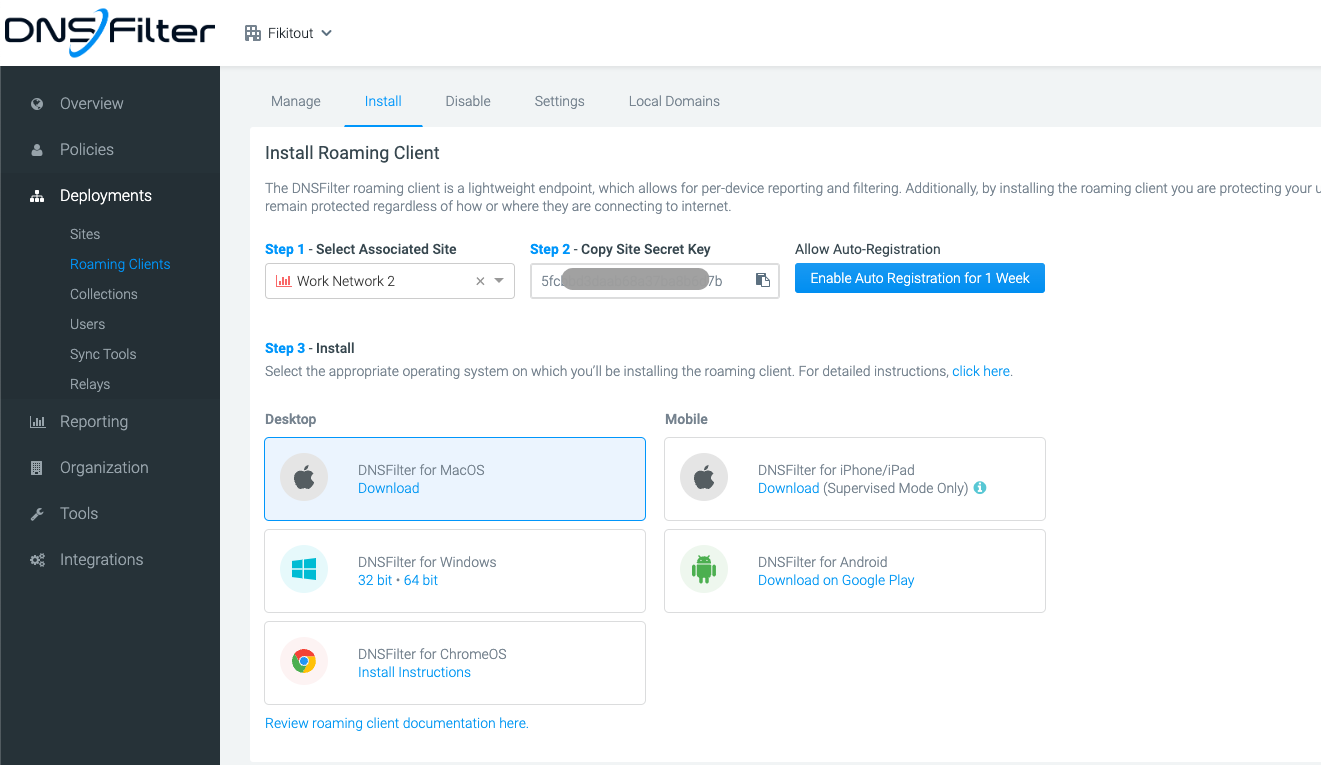 The Install panel is used for downloading the current version of roaming clients, as well as displaying the Site Secret Key (SSK) or NKEY of your Associated Sites. This key will allow you to register the client in our system and associate it with one of your networks. SSKs are how DNSFilter tracks the usage of the user client with a particular site. (If you are an MSP, be careful not to mix SSKs between sites/clients.) There is also a documentation link that points to this website.
A Mobile Administration PIN is also available, and it's used to turn off the filter in the mobile app. The PIN code rotates every 24h so that, should the PIN code become known, the risk of circumvention by your users is minimized.
Complete installation walkthroughs are available in our Windows, macOS, Linux, iOS, Android, and Chromebook guides.
Auto Registration
A button to Enable Auto Registration allows you to register mobile devices automatically if they are present on a site that you have registered to your account. This removes the need to enter the SSK for mobile devices manually.
Auto registration has no effect on Windows or macOS Roaming Clients or our Relay application. It only applies to Android and iOS devices.
Pro Tip: For Android devices, once you have enabled auto registration in your DNSFilter dashboard, you can then launch the DNSFilter application on your device, then tap and hold the Register button to be automatically registered.
Disable Roaming Client
You may disable individual agents by entering an administration PIN into the devices' interface. In order to generate a PIN code, go to the Disable tab and select your site as shown below:

At the moment, this functionality is only supported on iOS, Android, and ChromeOS devices.
Roaming Client Settings and Local Domains
Enable Roaming Clients Auto Update - If this is turned on, it will allow user clients to update automatically whenever a newer version is released.
From the DNSFilter Dashboard, you may optionally create a list of local domains and/or hostnames and force those DNS queries to a specific set of DNS resolvers.
In the example shown below, queries for *.corp.acme.com, *.acme.org, and *.portal.acme.com will be sent to 10.11.50.1 or 10.11.50.2 (in descending order). If neither Local Resolver returns a DNS response, the Roaming Client will fail open and send the query to the DNSFilter resolvers.