The Whitelabel section is exclusive to MSP/Partner accounts and allows you to sanitize our service to your clients so that it appears to be offered entirely by you. DNSFilter offers full white-labeling of our product, including SSL certificates, block pages, management panels, and email alerts. Our filtering service will be fully transparent to your clients.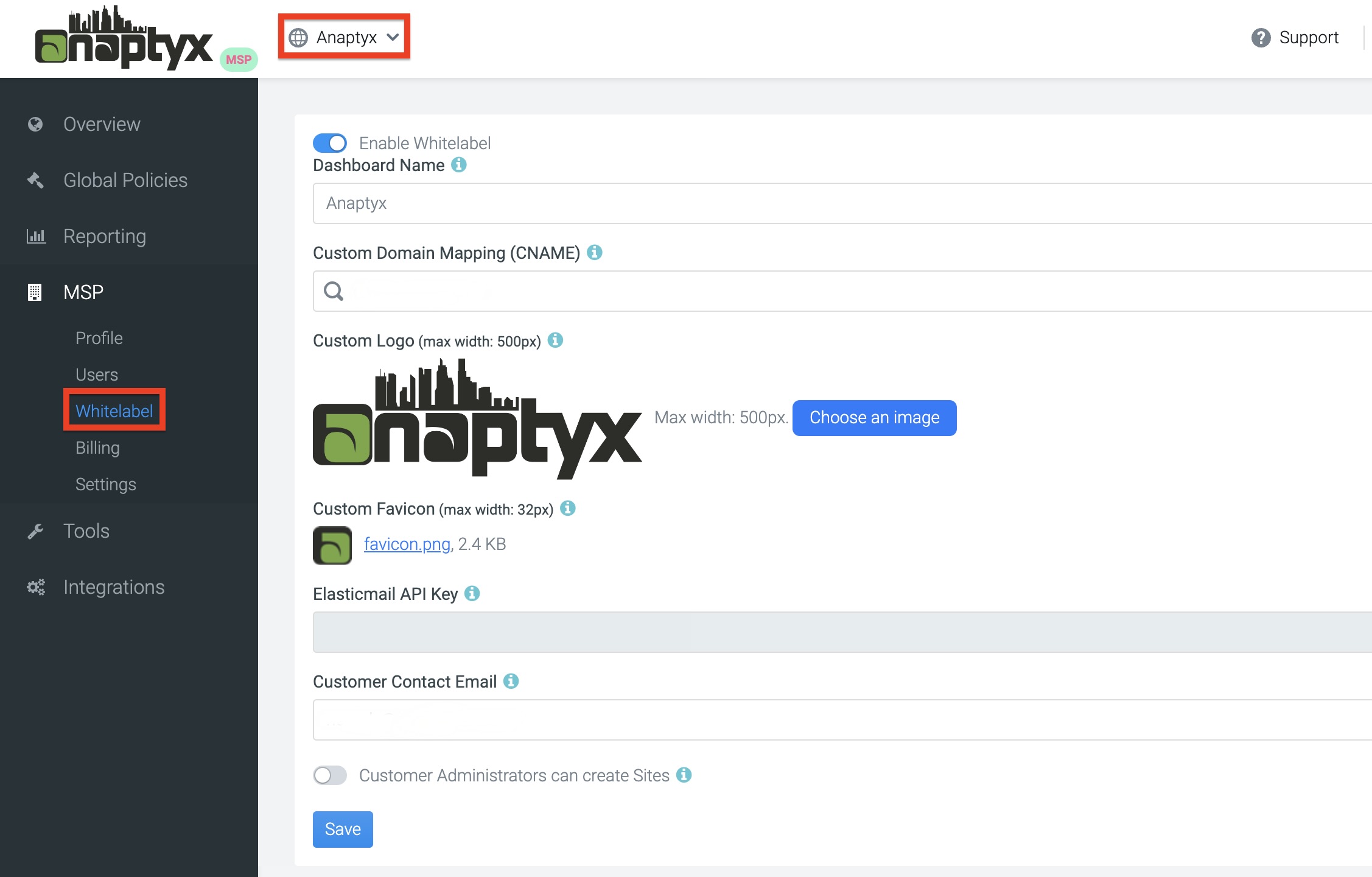 Whitelabel Settings
Below is a list and explanation of the whitelabel settings available to you on this page:
Dashboard Name - This will be displayed throughout your client-facing dashboard and is usually the name of your MSP.
Custom Domain Mapping (CNAME) - This allows you to utilize a CNAME to map a custom domain (ie, filter.yourcompany.com) for a filtering dashboard for your clients. This setting is necessary if you wish to offer a client-facing dashboard. We offer a complete MSP Custom Domain walkthrough.
Custom Logo - This logo will be displayed to clients when they access the client-facing (filter.yourcompany.com) dashboard.
API Key - This is an optional setting (set by DNSFilter staff) that MSPs use to have a sub-account with our transactional email service and can be set up by contacting support. This sub-account can be used to send notifications to your customers (such as password reset notifications) from a custom email address. If this is not set, DNSFilter will use a generic name to send these notifications on your behalf.
Customer Contact Email - This is the destination address for support tickets submitted through the client-facing dashboard.
Customer Administrators can create Sites - This switch allows your clients to add additional networks to their accounts. It is off by default because it affects billing. If customers add network locations, they will generate more query traffic and a higher bill. How you set this will depend on the billing arrangement between yourself and the client.