What is DNSFilter?
DNSFilter is a cloud-based, AI-driven content filtering and threat protection service, that can be deployed and configured in minutes, with no software installation necessary.
If you are eager to get started with implementation, check out our Site Deployment Guide.
How does DNSFilter work?
Our product uses the Domain Name System (DNS) protocol, referred to popularly as the "phonebook of the internet". When applications on your network make domain-name requests, these requests are sent to our servers, where they are matched against our threat feeds and your policy settings. If a request is to a malicious/blocked domain, the user is diverted. This ensures that unwanted activity is cutoff at the root, because the request never makes it to the blocked/infected domain. It also comprehensively covers all devices on your network, from servers and computers to printers and tablets - because DNS is essential for most network connections to be established.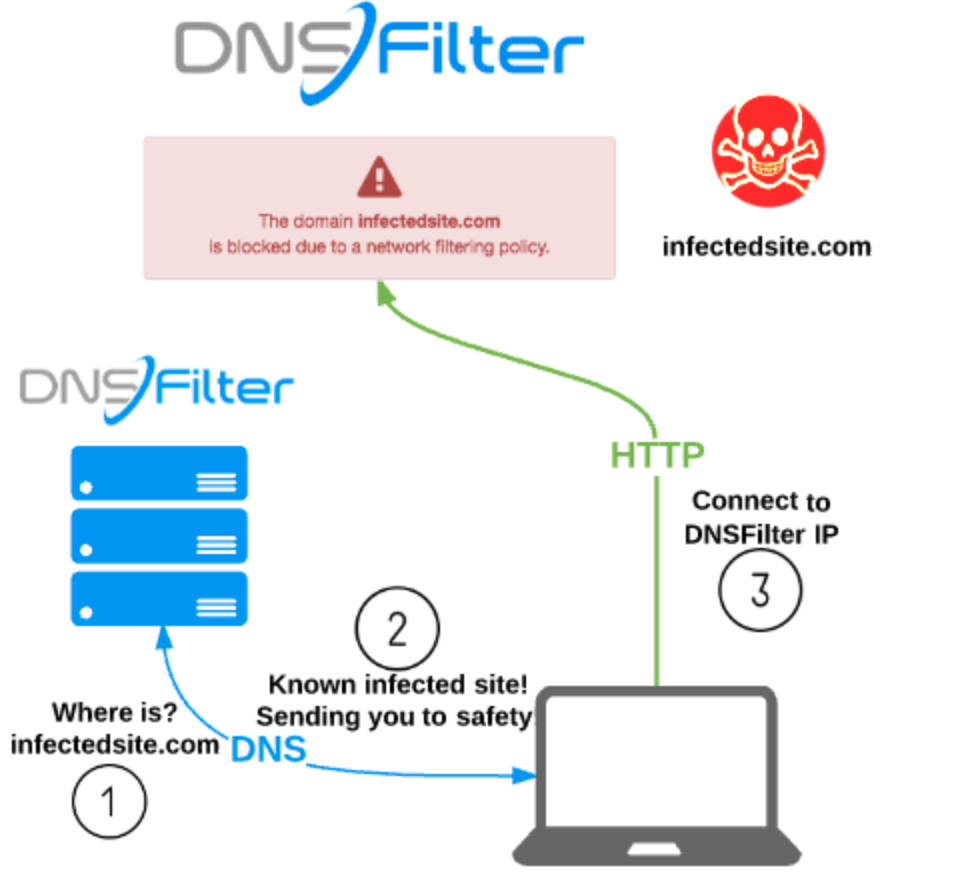 DNSFilter Features
Content Filtering
Select from a wide variety of Filtering Categories to block or allow at your discretion. Unsure which domains fall into which category? Use our Domain Lookup Tool to confirm.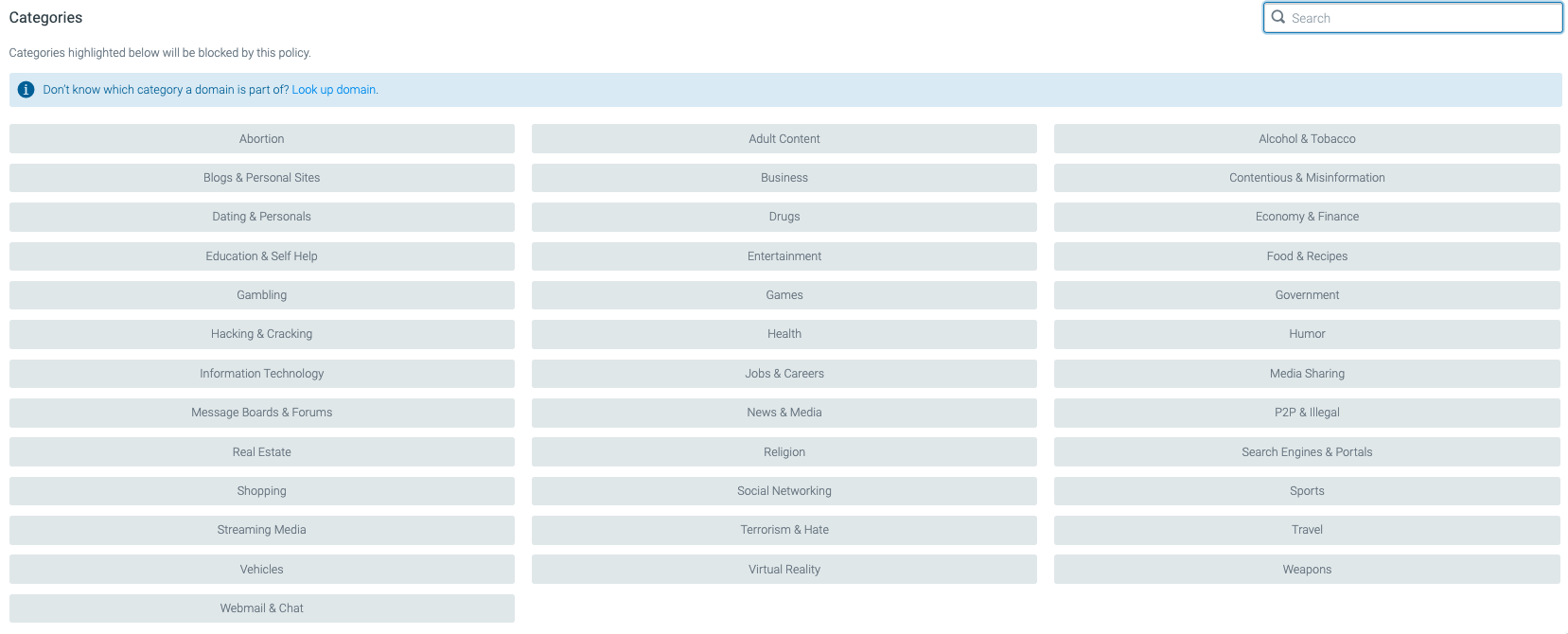 Abortion: Sites which provide views either in favor or against abortion, provide details on procedures, offer help or discuss outcomes or consequences of abortion.
Blogs & Personal Sites: Includes sites that make use of common blogging software including WordPress, Joomla!, and Drupal, amongst others, which generate dynamic content.
Drugs: Sites that contain content whose main focus is on controlled substances, including the sale, discussion, or glorification of such substances. Does not include alcohol and tobacco.
Entertainment: Sites that focus on art and entertainment, including topics like TV/Hollywood, tattoos, cartoons and anime.
Games: Sites that provide games and information and services related to games, including online games or through an application.
Health: Sites focused on physical, mental, and social well-being, including fitness information, medical conditions, diagnosis, and medical services.
Jobs & Careers: Sites that provide assistance in finding employment, career guidance or improvement.
News & Media: Sites whose content is mostly focused on current events and topics. Includes various news outlets, radio, TV stations, and magazines.
Religion: Sites that provide information on one or more religious beliefs, practices, or are affiliated with a religious institution such as a church or synagogue.
Social Networking: Sites that provide a community portal whereby members join and contribute posts or media and forge connections with other members.
Terrorism & Hate: Sites that are primarily focused on promoting terrorism or hate.
Virtual Reality: Sites that host files specific to virtual reality or run communities related to the technology.
Adult Content: Sites which may contain sexually explicit content, images, or that are portrayed through visually expressive language.
Business: Sites which exhibit business-like attributes such as selling of services, products, or consulting.
Economy & Finance: Includes sites that are mainly focused on stocks and current market information or provide financial services such as banks or lenders.
Food & Recipes: Sites that contain food related information or recipes, food preparation, or restaurant services.
Government: Sites that use official government top-level domain names or are run by government entities such as the military, army, or air force.
Humor: Sites that contain content with a focus on jokes or comedy, including satire.
Media Sharing: Sites that allow visitors to upload content and share media such as photos and videos.
P2P & Illegal: P2P & Torrent sites, and those giving access pirated movies, software, application keys and cracks.
Search Engines & Portals: Sites that enable their visitors to search the Internet or whose main focus is to provide links to other Internet sites.
Sports: Sites that contain information about various sports and sporting activities, including sports scores or team information.
Travel: Sites that focus on travel planning services, travel reservations, and tourist information.
Weapons: Sites that primarily discuss, review, or sell items such as hunting knives, guns, rifles, or BB guns.
Alcohol & Tobacco: Sites that sell, discuss, or glorify the consumption of various alcoholic and tobacco products - including beer, wine, and liquor.
Dating & Personals: Sites whose main focus is on connecting individuals for the purposes of dating.
Education & Self Help: Sites whose main purpose is to offer educational information, community information, or how-tos. Also includes educational facilities and related organizations.
Gambling: Sites that allow a visitor to play games using wagers/placing bets, lottery pools, or provides information on such activities.
Hacking & Cracking: Sites that disseminate information, hold discussions, or provide a means to gain unauthorized or illegal access to computers and networks.
Information Technology: Site whose main focus is on computers or distributing computer related information, including computer networking, Internet telephony, operating systems, or programming.
Message Boards & Forums: Sites which provide some type of a messaging or bulletin board system whose content is largely community generated.
Real Estate: Sites that provide information or services for renting, selling, or buying property.
Shopping: Sites that sell products or services, normally with an online purchasing interface.
Streaming Media: Sites that are mainly dedicated to the serving of video or audio streams and downloads.
Vehicles: Sites that mainly hold discussions or share information about vehicles, including cars, trucks, boats, and aircraft.
Webmail & Chat: Sites which provide chat or text messaging services or such abilities through a download or application.
Unlimited Block/Allow List
DNSFilter allows an unlimited number of domains to be added to policy Allow list/Block list, allowing you to have complete customization over which domains and subdomains you want users to access. CSV import of domain lists is supported.
Realtime Categorization
Newly seen domains are categorized in real-time by our Artificial Intelligence scanning engine. The average domain is categorized in 5-15 seconds.
Multi-lingual Support
Our categorization scanners support 20 of the world's most-spoken languages, and our user block pages can be displayed in English, Spanish, Portuguese, Italian, French, Turkish, Russian, Ukrainian, or Czech.
---
Threat Protection
Threat Categories
DNSFilter uses a multi-pronged approach towards security, which results in robust threat intelligence. Users can block sources of Malware and Phishing, as well as next-gen threats such as Botnets and Cryptomining. DNSFilter utilizes threat feeds maintained by the global security community, and reported by humans resulting in highly reliable data.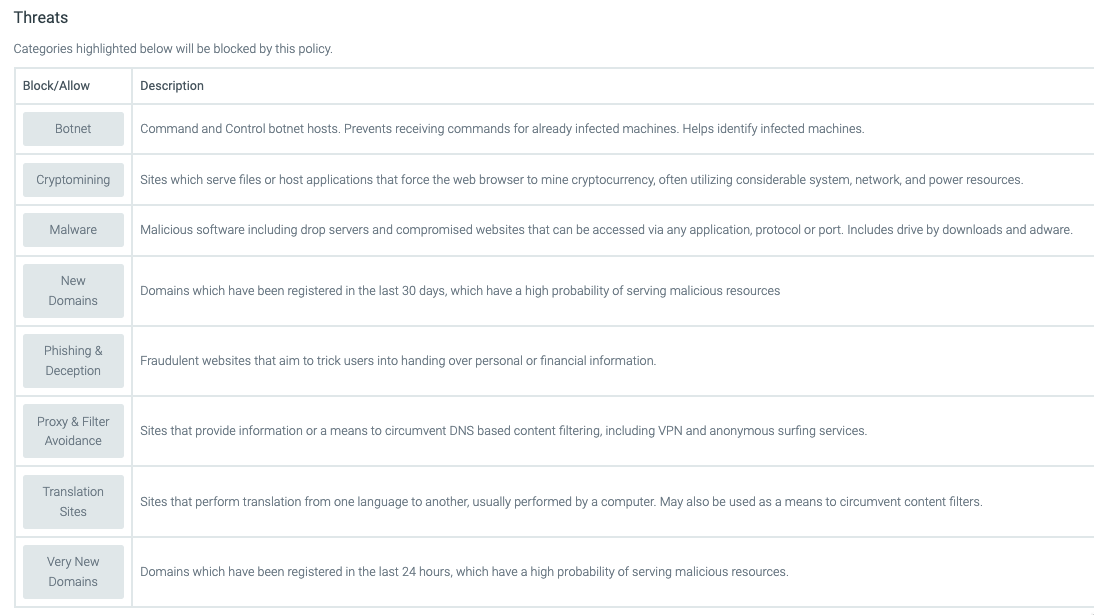 Community Threat Feeds
DNSFilter utilizes threat feeds maintained by the global security community, and reported by humans resulting in highly reliable data.
Government Threat Data
DNSFilter works with US and UK-based governmental organizations, so that we're able to prevent dangerous activity, such as:
Terrorism
Child Pornography (All of our customers have Internet Watch Foundation filtering active)
Child Exploitation
Hate Speech.
Machine Learning
Newly registered domains, newly seen domains, and domains with suspicious characteristics pass through our rigorous analyzation and scoring process to provide heuristic blocking that other security companies wouldn't catch until after fielding a customer case. This removes the unknown parts of the internet from being a constant threat.
Data Exchange Partnerships
By trading fully anonymized, security and content filtering big data with other security firms, DNSFilter implements trusted data feeds from the world's leading security organizations
Use Cases
DNSFilter can be used in a large variety of scenarios, from a single roaming computer to a multi-national corporation with satellite offices. Any organization that needs filtering and protection from internet threats can be supported by DNSFilter.
Business
We understand that as a business, you want to eliminate time spent disinfecting and reinstalling computers by preventing new malicious threats from being accessed, and neutralize any existing threats already on the computers. You want to block access to employee time-wasters like Reddit, Facebook, and Twitter, as well as bandwidth hogs like YouTube and Netflix.
DNSFilter provides all these features in a simple, easy to use dashboard, which is backed by a global network of fast DNS servers. Let us handle protecting your perimeter and keeping your bandwidth costs low.
Public/Guest WiFi
Coffee shops, Airbnb hosts, churches, and hotels are often rampant for malicious activity because the devices on the network change frequently and users may not have current and effective anti-malware solutions on their devices. Add to this that users may often desire to access inappropriate content while on a guest WiFi. With DNSFilter, you can prevent malicious activity and ensure that your users, no matter what devices they are using, are restricted to online content that you deem appropriate.
Transit WiFi
Public transit providers wish to provide the convenience of internet access to their passengers, but it only takes a few passengers streaming Netflix, Hulu, YouTube, or Vimeo to ruin the experience for everyone else. DNSFilter can reduce bandwidth from these services so that you can provide a good experience for all your passengers across your fleet.
Education
The IT Department is often the last consideration in a school district's budget. Yet, the government mandate of CIPA means that you have a responsibility to protect your students from inappropriate content. DNSFilter can ensure that you stay within regulation and protect your students from the growing list of internet threats.
Our Network
70 Global Locations
Utilizing the largest public Anycast network, our transit provider boasts an impressive 2300+ BGP peers and growing, with 19+ Internet Exchange memberships and an open peering policy.
See our Network page for a complete list.
Roaming Protection
Utilizing our Roaming Client, Windows, MacOS, iOS, Android, and Chromebook devices can be protected when outside your organization's network.
Interested? Sign up for a 14-day free trial