Exclusive to MSP accounts is the option to have custom branding on transactional emails that are sent out by DNSFilter (block page disputes, password resets, etc). This is an optional setting which allows MSPs to create a sub-account with our email provider. This sub-account can be used to send notifications to your customers from a custom email address. It is useful if you want to brand emails with your company logo or if you want to utilize our email platform to send campaigns to your customers.
The first step in setting up custom email is to contact support and let us know that you wish to turn on this feature for your account. Once that is completed, we will direct you to this page to complete the setup process.
Adding Contact Information
Login to https://mspmail.dnsfilter.com/ with the credentials provided in the email.
Navigate to your profile. Here you will click on Edit Info and enter the contact information (including full physical address) for your account. This is necessary in order to use the service and comply with anti-spam laws.
Go to the bottom of the page and click Edit password to change your password.
Adding DNS Records
Since you are using our email platform to send emails on your behalf, you will need to login to your Domain Registrar or Authoritative Name Server (ANS) and add domain records that will prove to internet mailservers that we are authorized to send mail on your behalf. At a minimum, the SPF record below must be configured, but we highly recommend adding all of the records listed below.
Login to your Registrar/ANS admin panel and add the following records. How to do this in Namecheap is illustrated below for reference:
SPF record
Type: TXT
Host: @
Value: v=spf1 a mx include:_spf.elasticemail.com ~all
DKIM
Type: TXT
Host: api._domainkey
Value: (Use Ctrl-A to be sure you copy the entire long string below)
k=rsa;t=s;p=MIGfMA0GCSqGSIb3DQEBAQUAA4GNADCBiQKBgQCbmGbQMzYeMvxwtNQoXN0waGYaciuKx8mtMh5czguT4EZlJXuCt6V+l56mmt3t68FEX5JJ0q4ijG71BGoFRkl87uJi7LrQt1ZZmZCvrEII0YO4mp8sDLXC8g1aUAoi8TJgxq2MJqCaMyj5kAm3Fdy2tzftPCV/lbdiJqmBnWKjtwIDAQAB
DMARC
Type: TXT
Host: _dmarc
Value: v=DMARC1; p=none; rua=mailto:ADMIN@YOURDOMAIN.COM;
(change email address to your email domain) You can also use a different DMARC setting using this generator.
Tracking
Type: CNAME
Host: tracking
Value: api.elasticemail.com
Adding Your Domain
Please make sure you are using the old view, so the screenshots below are beneficial to your setup!
After you are done making the DNS record changes above, you will need to wait some time for the changes to propagate across the internet. This should take place within an hour but at times can take up to 24 hours.
Navigate to the settings menu in your email sub-account. You can complete setting up your domain from the tabs on this screen.
The first tab is the Sending menu. Here you should change the To specific email field to set an email address that bounced mail will be sent to.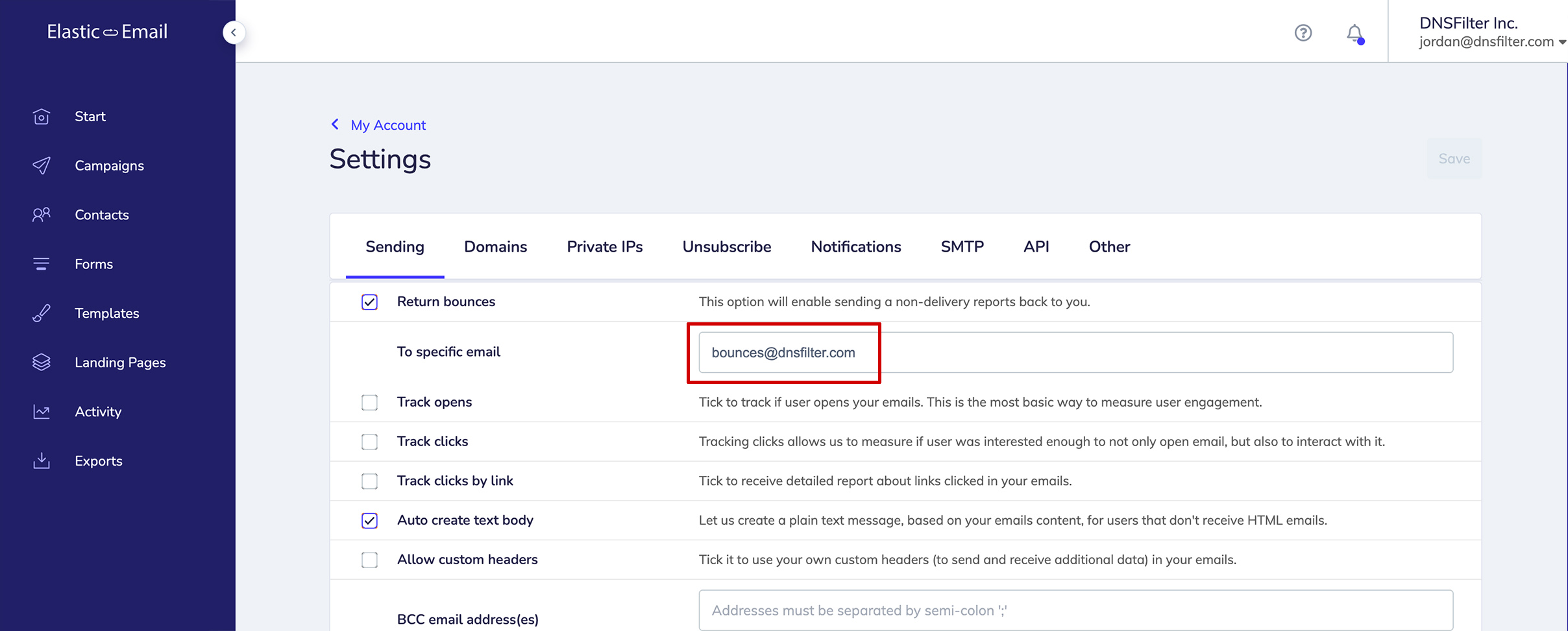 The next tab is the Domains tab. From here you will click "Add Domain" in the top right to add your email domain to the subaccount.

A DNS records check will be performed as soon as the domain is entered. If the records entered above have propagated successfully, you will see checkboxes under the appropriate columns. You can then click on "Set as default" to change your sending server over from the whitelabel domain to your own domain. (If the checkboxes are not yet, wait for records to propagate and/or verify that you have entered them successfully)

As soon as you set your domain as the default, a prompt will ask you for the default sender address. This is the address that all your mailings will come from. You can pick any username you like, but leave the domain name as is.

Congratulations, you are done setting up your sub-account. You are now ready to send mailings from your sub-account.
Email Templates
To get you started, DNSFilter provides you with several templates that you can work from to custom-brand your mailings that are sent out. You can access them from the Templates menu on the left sidebar.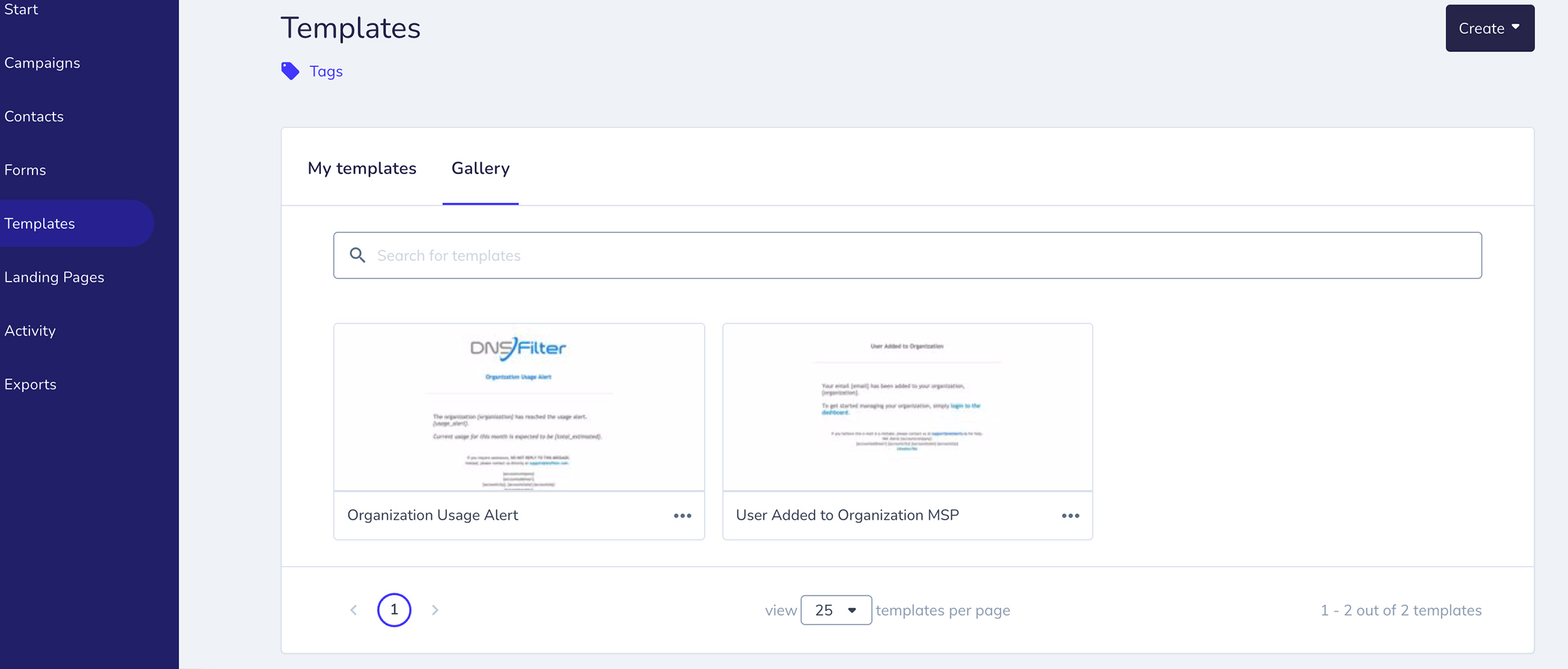 You can make a copy of these templates, but ensure that you do not change the name of the template. The original name has to be preserved for our system to work. You may change any other elements of the template, as long as the template name is intact. You can also create a brand new template with the same name as the original.
You can make a copy of this to 'my templates' and modify it as you please, they just need retain their 'name' in ElasticEmail, such as 'Reset Password MSP' in order for our system to work. Feel free to change any other elements of the template to fit your needs - the copied version you've made is just a guide; but you may completely change it, or create a new template, and call it 'Reset Password MSP' to have the emails use that template.
There are six available templates:
Weekly Report MSP - this report gives a weekly rollup of query volume, as well as blocked threats and domains.
Block Notification MSP - this message will be sent to the designated administrator when someone fills out the contact form on the block page (https://docs.dnsfilter.com/docs/block-pages#section-page-appearance), informing the admin of their request to whitelist the site.
User Added to Organization MSP - an email that will be sent out when one of your organizations adds a new user to their account.
Complete Signup MSP - an email sent out to new users of an organization so that they set their initial account password.
CSV Export MSP - this email will be sent out when a client requests a CSV export from the Query Log tool (https://docs.dnsfilter.com/docs/query-log)
Reset Password MSP - this email will be sent out when a user requests a password reset from your whitelabeled login panel.
Change sender address
Make sure to change the From, or sender, address in the template editor. This will ensure the emails are sent from your brand.
Once you've completed all the steps in this guide, feel free to go back to the DNSFilter dashboard and add a new test user; and see if they get the email as expected. Check to make sure it did not go into the spam folder, and that it looks as you desired. This is the initial email notification your customers will receive from you, as you add them in our interface.
You also have the power to create mail campaigns that can be used for marketing or informational purposes as well. We encourage full use of your sub-account to make any communications with your clients that you desire.