Welcome to our Partner Portal! Whether you're just getting started or a seasoned IT pro, our guides are here to help you integrate DNSFilter into your stack, and ensure your clients are fully protected from DNS threats.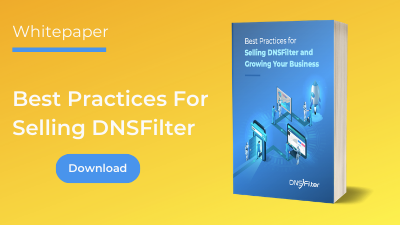 As a first step we highly recommend you download our Best Practices document. In here you'll find common customer questions with compelling responses. This is a resource to print and keep by your desk as you'll return to it again and again.
Getting Started - The Basics
These whitepapers will help you and your sales team gain a deep understanding of how A.I. powered DNS protection works, how to talk about DNS protection with your clients, and give you answers to commonly asked questions.
Working From Home Checklist
A quick checklist to ensure security on every device you protect.
Download
eGuides - Getting To Know The Product
Looking to implement Roaming Clients? Wants some tips on how to sell DNS filtering? Need advice on setting up your dashboard? Want a document handy that you can share with new hires about DNSFilter? Here are a few resources we know you'll get a lot out of. Click the images to download!
Unbranded Materials - For Your Use With Clients
If your customers are interested in DNS filtering features, these one-sheets give them all the details they need minus the DNSFilter branding.
Contacting Sales or Support
Need anything else? We're here to help. Reach out to support@dnsfilter.com, or submit a support ticket. We're here to help you make the most of DNSFilter!