These domains can be used to confirm that the Categories you've blocked in your Policies are working as expected without using real-world examples. They are helpful when starting a trial, creating a new policy, or for service monitoring purposes.
You can test all categories at once by visiting debug.dnsfilter.com.
You can also test the categories individually by browsing the domains shown below in the content categories. For example, if you want to test your block page against adult content, visit - adult.filterdns.net.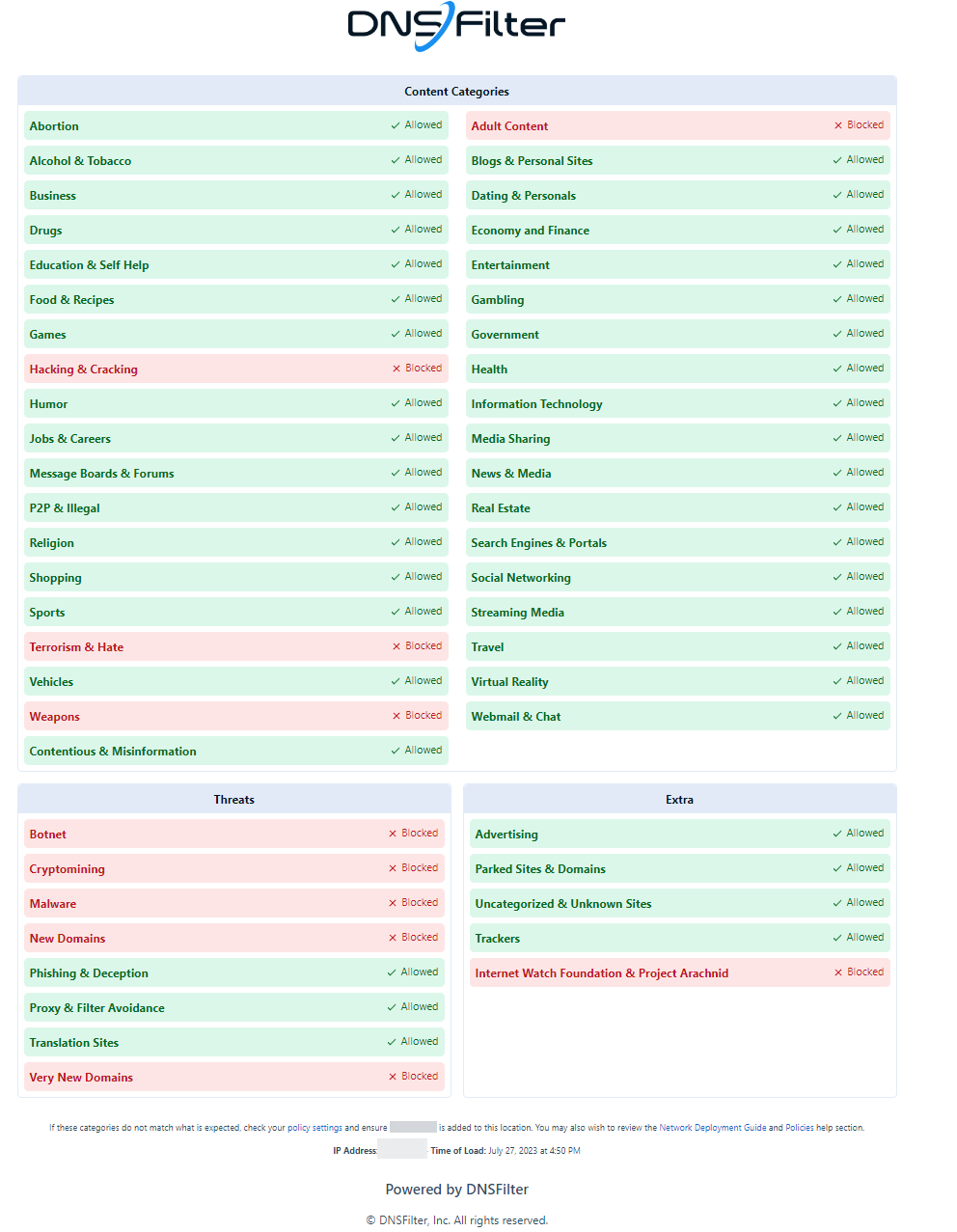 Content Categories
| Category | Domain |
| --- | --- |
| Abortion | abortion.filterdns.net |
| Adult Content | adult.filterdns.net |
| Alcohol & Tobacco | alcoholandtobacco.filterdns.net |
| Blogs & Personal Sites | blogsandpersonal.filterdns.net |
| Business | business.filterdns.net |
| Contentious & Misinformation | contentiousandmisinformation.filterdns.net |
| Dating & Personals | personals.filterdns.net |
| Drugs | drugs.filterdns.net |
| Entertainment | entertainment.filterdns.net |
| Humor | humor.filterdns.net |
| Jobs & Careers | jobrelated.filterdns.net |
| Real Estate | realestate.filterdns.net |
| Shopping | shopping.filterdns.net |
| Sports | sports.filterdns.net |
| Streaming Media | streamingmedia.filterdns.net |
| Vehicles | vehicles.filterdns.net |
| Weapons | weapons.filterdns.net |
| Advertising | advertising.filterdns.net |
| Economy & Finance | economyandfinance.filterdns.net |
| Education & Self Help | education.filterdns.net |
| Food & Recipes | foodandrecipes.filterdns.net |
| Gambling | gambling.filterdns.net |
| Government | government.filterdns.net |
| Games | games.filterdns.net |
| Hacking & Cracking | hacking.filterdns.net |
| Health | health.filterdns.net |
| Information Technology | informationtech.filterdns.net |
| Media Sharing | mediasharing.filterdns.net |
| Message Boards and Forums | messageboardsandforums.filterdns.net |
| News and Media | newsandmedia.filterdns.net |
| Religion | religion.filterdns.net |
| Search Engines & Portals | searchenginesandportals.filterdns.net |
| Social Networking | socialnetworking.filterdns.net |
| Translation | translators.filterdns.net |
| Terrorism & Hate | terrorismandhate.filterdns.net |
| Travel | travel.filterdns.net |
| Virtual Reality | virtualreality.filterdns.net |
| Webmail & Chat | chatandmessaging.filterdns.net |
| P2P/Illegal | illegalcontent.filterdns.net |
Threats
| Category | Domain |
| --- | --- |
| Botnet | botnet.filterdns.net |
| Cryptomining | cryptomining.filterdns.net |
| Malware | malware.filterdns.net |
| New Domains | newdomains.filterdns.net |
| Phishing & Deception | phishing.filterdns.net |
| Very New Domains | verynewdomains.filterdns.net |
| Translation Sites | translators.filterdns.net |
| Proxy & Filter Avoidance | proxyandfilteravoidance.filterdns.net |
Extra
| | |
| --- | --- |
| Category | Domain |
| Advertisting | advertising.filterdns.net |
| Parked Sites & Domains | parked.filterdns.net |
| Uncategorized | uncategorized.filterdns.net |
| Trackers | trackers.filterdns.net |
| Internet Watch Foundation & Project Arachnid | iwf@filterdns.net |