DNSFilter offers the comprehensive ability to block domains based on content as well as any security threats that they pose. We also support SafeSearch functionality so that the appropriate content is displayed in your search results.
Content Categories
Content Categories are the fastest way to block large lists of undesirable domains. For example, blocking the "Social Networking" category will block Facebook, Twitter, and Instagram. When you block a particular category, it will be indicated by the button changing to the color Red, and showing a 🚫 icon.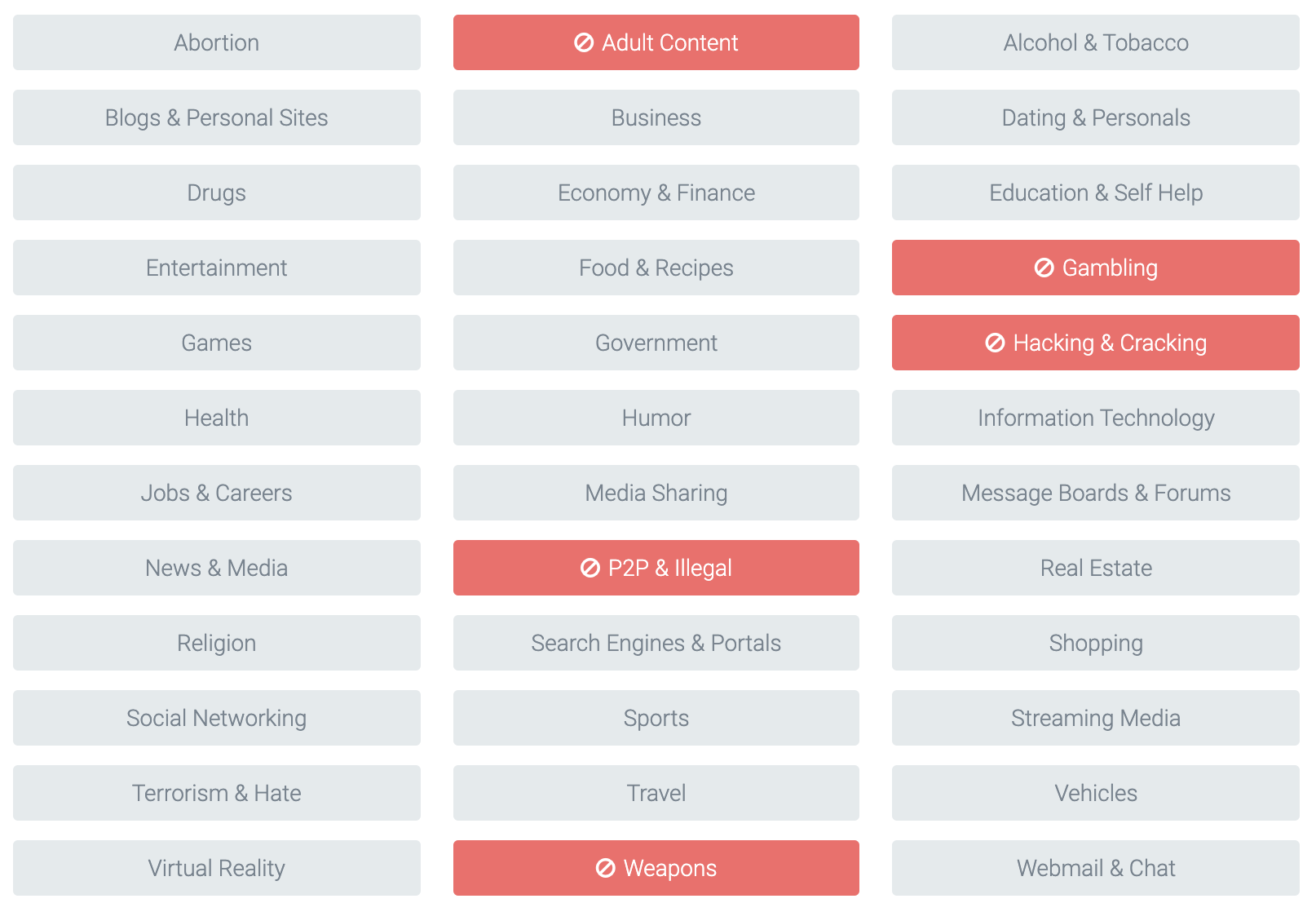 Select from a wide variety of Filtering Categories to block or allow at your discretion. Unsure which domain falls into which category? Use our Domain Lookup Tool to confirm.

Abortion:

Adult Content:

Alcohol & Tobacco:
Blogs & Personal Sites:

Business:

Dating & Personals:

Drugs:

Education & Self Help:

Entertainment:

Economy & Finance:

Food & Recipes:

Games:

Gambling:

Government:

Health:

Humor:

Information Technology:

Jobs & Careers:
Media Sharing:
Message Boards & Forums:

News & Media:

Real Estate:

Religion:

Search Engines & Portals:

Shopping:

Social Networking:

Sports:

Streaming Media:

Travel:

Terrorism & Hate:

Vehicles:

Virtual Reality:

Weapons:

Webmail & Chat:
SafeSearch
DNSFilter is able to offer Google, Bing, and YouTube SafeSearch options. DNSFilter simply offers the features already provided by these services, but makes it easy to enforce. SafeSearch cannot be overridden by the endusers if the SafeSearch options are enabled in your Filtering Policy (and you ensure that users are using our service for DNS).
SafeSearch Precedence
Enabling the SafeSearch options for a policy will override any blocking for the affected sites that would normally be blocked by the "Search Engines & Portals" category.
If you truly wish to ensure that Google, Bing, etc are blocked, you must disable the SafeSearch toggle(s) on the policy.
The same warning applies to YouTube (normally blocked by the "Entertainment" category)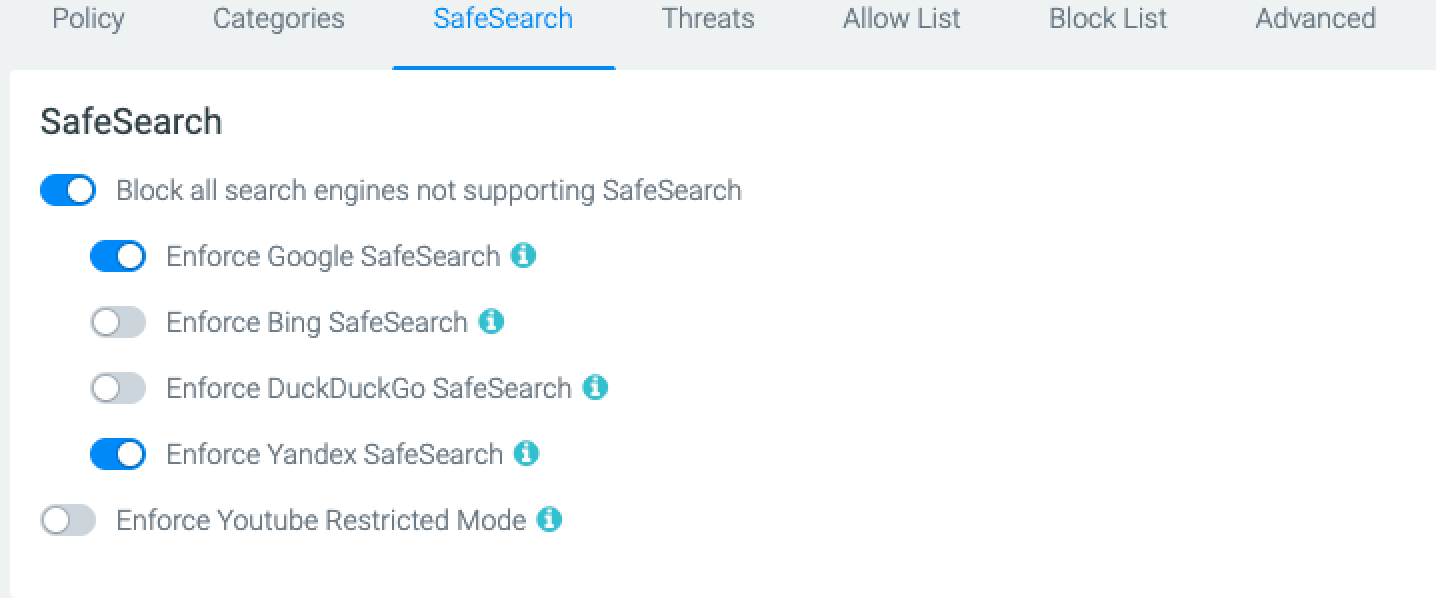 Read more about each SafeSearch offering below:
Threat Categories
Threats are domains which host potentially malicious resources that may result in:
Circumventing DNSFilter's protection (VPNs, Proxies)
Outbound attacks from your network
Compromise of usernames, passwords, or other sensitive data
Excess system resource utilization
Malware and/or Ransomware Compromise
These can also exist in the following content categories:
Hacking & Cracking:

P2P & Illegal:

Just as with content categories, clicking on a particular classification will turn the color Red, and show a 🚫 icon. This indicates that blocking is active.
Botnet:

Crytpomining:

Malware:

New Domains:

Phishing & Deception:

Proxy Filter & Avoidance:

Translation Sites:

Very New Domains: